Nokia files patent on tattoo that will allow communication with mobile device
Today:
According to a patent filed on September 13, 2011, Nokia has developed a tattoo (or magnetic device), that can link to a mobile device and communicate with it.  According to the patent filing, this device 
"would be able to detect a magnetic field and transfer a "perceivable stimulus" to users. The device could notify people about an incoming call, text or dead battery. "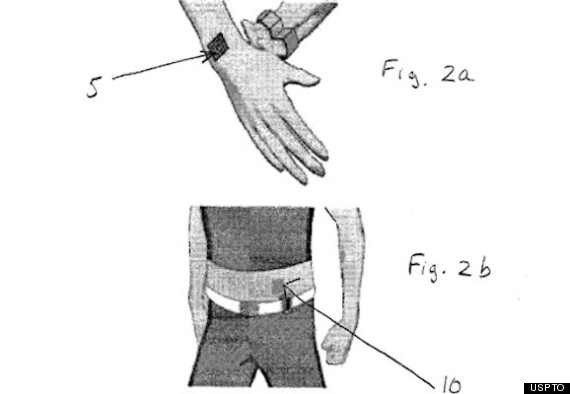 Yesterday:
SF writer Peter F. Hamilton in his Commonwealth Saga (Pandora's Star [2004], Judas Unchained [2005]) described "Organic Circuitry tattoos"  (OC Tattoos), a computer system wet wired into most Commonwealth citizens by choice.  This OC Tattoo system, as described by the Wikipedia entry
"
are also a major technological device. These are tattooed on the skin and resemble colourful, often metallic tattoos, and serve hundreds of purposes from transferring credits to serving as sensors. Their main function is to act as processors for other implants (which may function at reduced capacity if an OCTattoo is damaged)."
"We can rebuild him...we have the technology..."
Today:
Researchers at Monash University are about to begin trials of a direct-to-grain bionic eye implant by 2014.
The microchips we are testing will be implanted directly on the surface of a patient's visual cortex, located at the back of the brain. It's estimated that each patient will receive a grid of up to 14 eight-by-eight millimetre tiles
Each tile comprises a four-by-four millimetre microchip with some 500,000 transistors and 45 hair-thin electrodes. When fully operational, these tiles will receive low-resolution, black-and-white images from an external digital processing unit connected to a high-resolution camera.
Yesterday:
The Six Million Dollar Man (ABC, 1974-1978) was an American TV series about a former astronaut that was rebuilt following an accident that resulted in his right arm, left eye, and both legs being replaced with bionics at a cost of six million dollars.  
Researchers claim quantum computer breakthrough (from ABC, Radio Australia)
"Australian and international researchers say they have designed a tiny crystal able to run a quantum computer so powerful it would take a computer the size of the known universe to match it."
This ion crystal, made up of only 300 atoms, is more powerful than the most advanced computers available today by 80 orders of magnitude.  To achieve the same computational power, a computer made using current technology would be approximately the size of the known universe.